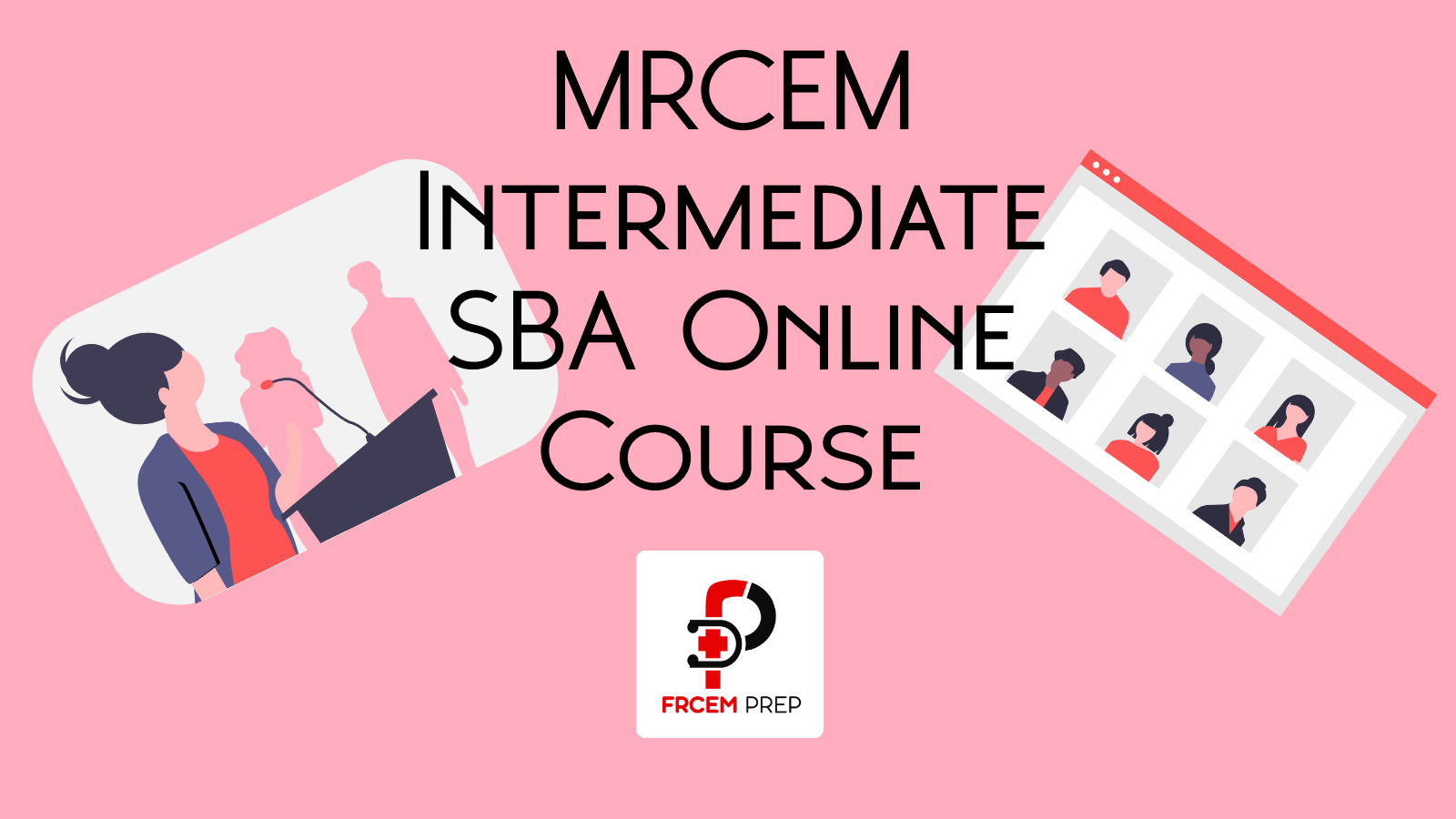 If you are planning to give the exam soon, you will definitely improve your chances of clearing with MRCEM Intermediate SBA online workshop from FRCEMPREP.com
Table of Contents
What's included?
We will go through the curriculum as outlined by the RCEM. We will cover major topics that get tested on a repeat basis.
Each week, we'll cover approximately 10-20 marks worth content. Marks division is visible on "All about MRCEM Intermediate SBA" blog post.
As the pattern has changed, many of the students are confused about the content that might get tested on the Exam. But no one has an advantage as the pattern is equally new to your fellow students.
The pass mark will be based on the mark decided by the examiners based on how difficult a question is and it will not be based on student performance. So join the course along with friends and it will give you extra motivation if you have a committed study partner. Discussions help remember longer.
The classes are supposed to be a revision to help you utilize the time properly. If you are not motivated enough, you might take 3 weeks to read the same content that is covered in a 3hour revision class. If you give one reading prior to the class, you will find the classes useful. If not, you might find the pace of the class as fast.

We add value to your efforts.
Book Now
Schedule of MRCEM Intermediate SBA online workshop
We might overlap some topics but overall, this is how we planned for 26th October 2023 exam.
Topic category
First batch
SLO 1 Complex stable patient
18 Jun
SLO3 Resuscitate &
ACCS LO8 organ failure
25 Jun
SLO 1 Complex stable patient
2 Jul
SLO4 injured patient
9 Jul
SLO 1 Complex stable patient
16 Jul
SLO 5 PEM
23 Jul
SLO 1 Complex stable patient
30 Jul
SLO6 Procedural skills (ACCS)
ACCS LO7 basic anaesthetic care
6 Aug
SLO 1 Complex stable patient
13 Aug
SLO7 Complex or challenging
situations
21 Oct
High yield 1
22 Oct
High yield 2
MRCEM Intermediate workshop schedule
Most of Pediatric topics will be covered along with Adult topics and rest in the SLO 5 PEM class.
Starts at 1.30pm UK time – Check your country time here
Book Now
Faculty
The course will be taught by MRCEM qualified faculty with a lot of experience in teaching MRCEM residents.
Mode of delivery
We will be choosing Google meet or Microsoft teams to deliver classes. If we notice multiple logins via one user ID, we will delete that ID from the class.
Recording / Sharing of classes is prohibited. Tracking a digital activity is very simple and you could get into trouble if you record and share a video to others. GMC will take criminal charges strictly and if found guilty, you can forget GMC registration and your dreams of working in the UK permanently.
Reviews
If you want to know the feedback from our previous batches, please check our Facebook page reviews section. Almost all the candidates recommend our classes.