Once you have checked all the details regarding MRCEM Primary examination, let's read through on how to apply for FRCEM primary examination, You have to bear in mind the following statement from RCEM. Check the RCEM exam / application dates below.
Table of Contents
RCEM exam dates and Fees
MRCEM and FRCEM exam dates calendar from RCEM is available on RCEM website.
2022 exam schedule
| Examination | Exam Dates | Centres | Application Dates | Results Date |
| --- | --- | --- | --- | --- |
| MRCEM OSCE | 31 Oct–04 Nov 2022 | Kochi, India | Closed | TBC |
| MRCEM OSCE | 28 Nov-07 Dec 2022 | London | Closed | TBC |
| MRCEM Primary | 24 Nov 2022 | Online *1 | Closed | TBC |
| FRCEM SBA | 29 Sep 2022 | Online *1 | Closed | TBC |
| FRCEM OSCE *3 | 07-16 Nov 2022 | London | Closed | TBC |
Updated 23 October 2022 – Please check official RCEM page for accurate info
2023 exam schedule
| Examination | Exam Dates | Centres | Diet | Application Dates | Results Date |
| --- | --- | --- | --- | --- | --- |
| MRCEM Primary | 17 May 23 | Pearson VUE | Diet 1 | 23 Jan – 06 Feb 2023 | TBC |
| MRCEM Primary | 22 Nov 23 | Pearson VUE | Diet 2 | 31 Jul – 14 Aug 2023 | TBC |
| MRCEM SBA | 25 Apr 23 | Pearson VUE | Diet 1 | 04 – 16 Jan 2023 | TBC |
| MRCEM SBA | 26 Oct 23 | Pearson VUE | Diet 2 | 03 – 17 Jul 2023 | TBC |
| MRCEM OSCE | 06-17 Feb 23 | London | Diet 1 | 07 – 18 Nov 2022 | TBC |
| MRCEM OSCE | 12-23 Jun 23 | London | Diet 2 | 20 – 31 Mar 2023 | TBC |
| MRCEM OSCE | 13-24 Nov 23 | London | Diet 3 | 07 – 18 Aug 2023 | TBC |
| MRCEM OSCE | 24-28 Jul 23 | India – Chennai | Diet 1 | 03 – 14 Apr 2023 | TBC |
| MRCEM OSCE | 09-13 Oct 23 | India – Hyderabad | Diet 2 | 03 – 14 Jul 2023 | TBC |
| MRCEM OSCE | 13-17 Mar 23 | Malaysia – Kuala Lumpur | Diet 1 | 12 – 22 Dec 2022 | TBC |
| FRCEM SBA | 15 Mar 23 | Pearson VUE | Diet 1 | 21 Nov – 05 Dec 2022 | TBC |
| FRCEM SBA | 04 Oct 23 | Pearson VUE | Diet 2 | 12 – 26 Jun 2023 | TBC |
| FRCEM OSCE | 15-26 May 23 | London | Diet 1 | 13 – 24 Feb 23 | TBC |
| FRCEM OSCE | 16-27 Oct 23 | London | Diet 2 | 17 – 28 Jul 23 | TBC |
Updated 23 October 2022 – Please check official RCEM page for accurate info. If it says Pearson vue, it'll be conducted in UK and internationally.
Exam fee
As on Oct 23rd, the RCEM page lists the fee as…
MRCEM Primary – £330
MRCEM (OSCE) Objective Structured Clinical Examination – £450 / £650 India / £750 (Malaysia)
MRCEM SBA – £335
FRCEM SBA – £345
FRCEM OSCE – £465
Apart from the online fee you pay during your application, if you are attending the exam overseas (Out of UK), you will pay some fee to the local organization that's conducting the exam. This fee differs between countries, talk to the local body to get an idea (In India, it's close to 20,000 INR when the entire OSCE was offline/live).
Click the link within the quote above to find the next available exam dates and application deadlines.
Once you find a suitable date and if the application window is open, get ready to apply.
Required documents for MRCEM Primary exam application.
Documents must be in these format PDF,JPG,DOC,DOCX,BMP,XLS,XLSX,TIF
Copies should be in English or a verified English translation. Should be valid currently (Not expired).
Your mandatory rotating internship / House-surgeonship – Foundation Year – 1 (FY-1) – You'll be needing the start /end dates.
Your medical registration that enables you to practice in your state/country.
Your medical degree awarded from your contry / state .
If you have any other qualification along with primary qualification, you need the degree /registration documents of those.
Tip : If your scanned copy is larger than accepted file size, use https://tinyjpg.com/ and resize it.
Your degree must be acceptable to GMC – Check acceptable qualification in this link.
FRCEM Primary can be applied once you finish your FY1/Internship. You need not be enrolled in a training program but it's better if you get yourself into a training program. It helps when you want to apply for the next exams once you clear the Primary exam.
Employment history
RCEM expects an active continuous medical career. If there was any lapse (gap) in the employment, you might be asked for an explanation. Even if you were not employed anywhere, if you were operating a clinic or attending locums, better to mention it while applying and show a continuous career. Try to be honest. If you were preparing for some other entrance and doing locums, mention locums data. You have the option to choose "Unemployed" period.
Editing the columns once entered on the portal is very difficult (as on March 30th 2021). So, make sure you enter properly.
From your foundation year onwards, please note down on a paper in a chronological order with the following details:
Employment grade – In which capacity were you working? (Consultant, associate, GP, CT/ST1 /FY2 / SHO etc)
Which hospital?
Was it full time or part time or pregnancy leave?
Was it a training post or non-training post? If training post, which specialty.
Duration of the post held?
Mode of payment
Only a MasterCard or Visa credit/debit is accepted. The card should be enabled for international transaction with sufficient limit, enough to cover the exam fee. Apart from the fee amount, minimal currency conversion charges do apply. (1-2% depending on your card).
Approval from your Academic supervisor.
Previously, RCEM required approval from program heads but not anymore. Program heads/ Educational supervisors will still be notified about the candidates who applied from their training program in an email.
Cancellation / Refund policy
Applicants wishing to withdraw their entry for an examination must notify the Examinations Department by email to [email protected] prior to 17:00 (GMT) on the closing date for receipt of applications. Fees cannot be refunded after this time.
If you cannot attend the test due to any major reasons, you may email them for consideration. They might schedule your exam for the next session, at their discretion. An event in your life that disturbs your examination preparation or prevents you from attending the test will be taken into consideration. (If you have health issues, you may back them up with necessary documentation from your treating facility). Again, RCEM has the final say in this.
How to apply for MRCEM primary examination
Once you click the link above, it'll take you to RCEM application page. You need to sign-up. Login if you already have an account or click "create a new account" if you don't have an account. If in doubt, use forgot username / password under the login window.
After signing in, read the terms and scroll to the bottom. There you'll see the following buttons.
If you are new, click the first button. If you have filled the application and saved it earlier, you may click continue an existing application and fill the rest. At any point, you can save the application and exit.
Past sittings Eligibility page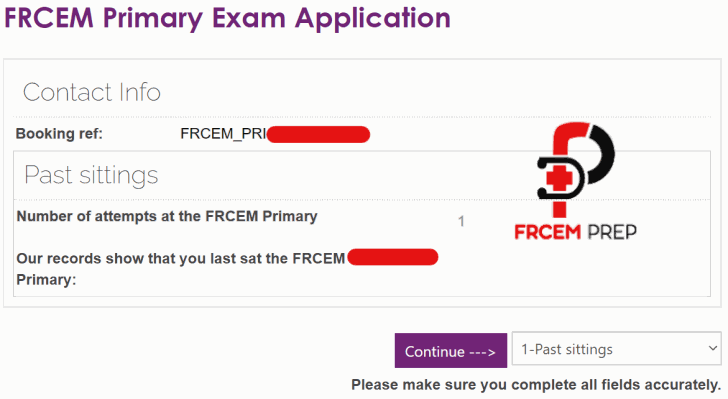 This page will show you the number of previous attempts at this exam. If you have never attempted the exam, you may not see any details.
Click continue button on the bottom.
Employment info – Current post
This page page is about your current employment. (Meaning, the employment end date is not applicable.) Fill the Grade and rest of the details. After filling a column, wait for 2 – 3 seconds for the page to update. On the next page, you'll be filling past employments.
Click continue button on the bottom.
Historic Post detail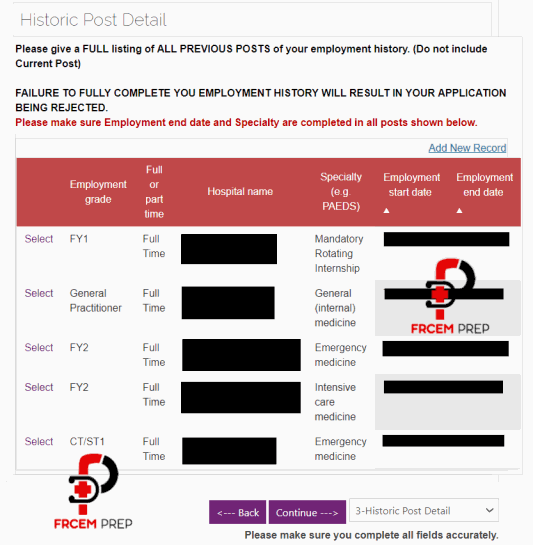 This page is about previous employment. Click on "Add new Record". Add details similar to current post page and click save. After filling a column, wait for 2 – 3 seconds for it to update. Only FY1 data is enough for Primary exam but fill all the data applicable to you.
After filling all data, you should see something like the shown image. If you made a mistake while entering, click "SELECT" and edit it.
Regarding training posts, Your internship is FY1, Next year is FY2, Next year is CT/ST1… so on. If you did 6months of FY2 in ER and 6months in ICU (as in image), make 2 entries and put FY2 in both.
Click continue for registration info page.
Medical registration page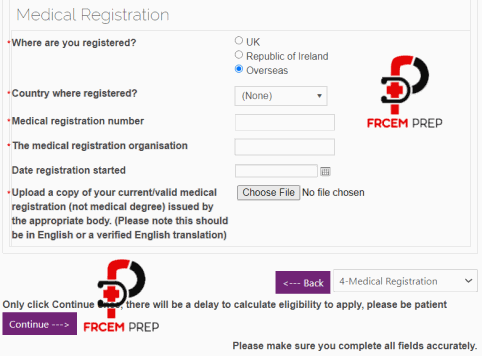 This page is about your medical registration. Select your country, enter the name of the registering body and upload the valid copy of your registration (Not degree). It should not be expired. It should be in english or translated to english.
After clicking "Choose file", select the file and the click "ATTACH".
Click continue for confirmation page. It'll take some time to calculate your eligibility.
Confirmation page
On this page it'll show the exam you are applying for if the system thinks you are eligible. If that's correct, click continue. If not, click back.
Personal details page
On this page, you'll have to enter your personal details. All columns are self explanatory. Just fill and click next.
Under current work, choose your hospital name. If you cannot find your work place name, choose "Other,," and wait. It'll show you a column where you can enter your hospital name.
Qualifications page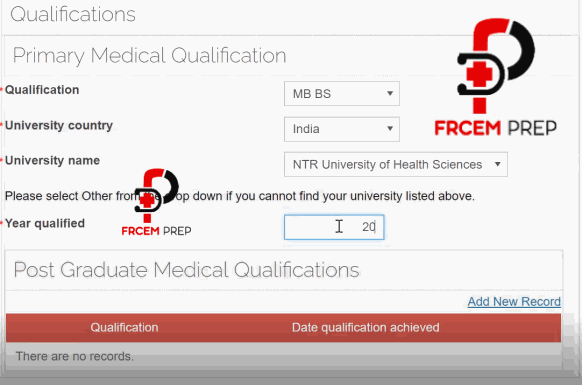 Here you can choose your primary qualification from the choices. If you cannot find the University in that list, choose "Other" and wait for it to update. It'll show a window to enter your university name.
If you happen to have any post graduate medical qualifications, click "Add New Recosd" link and enter those details. Click next on the bottom.
Special arrangements / Venue page
Here, you'll be asked if you would need a special arrangement like wheel chair etc. Enter the needs if any. If not, Next you'll be choosing a venue. In case of online exams, you won't get any list. For offline exams, it'll ask you to choose first choice, second choice and third choice. They'll try to put you in one of the centres in the order of preference.
Employment declaration page
No much choice here, choose agree to the declaration and move on to apply. Read it once if it interests you.
Ethnicity and diversity page
You may provide your ethnicity data on this page. If you are not comfortable sharing such details, you may choose not to. All the options are self explanatory. Some options have "Prefer not to say". Choose it if you don't understand it. It won't affect your application.
Payment page
Here, check the amount to pay, choose card type and enter card info. If you don't have a card handy, click save on the bottom to come back and pay later. Once payment is complete, the page will say so. You'll get an automated email with payment confirmation.
Resuming a saved application
If you have clicked SAVE and want to resume later. Login to RCEM webiste, click exam>apply. choose "Continue an existing application" button to retrieve the previously entered data and proceed to payment.
Confirmation of application
After 1 to 2 weeks later, the examinations board shall review your application and send you a confirmation. Only after that email, your place is confirmed to the exam. If they have any queries regarding the data you entered, please send them a reply soon, so that they can process the application.
Now that you have applied, check out the following articles
Spotted a mistake in this article? Or Have a suggestion? Let us know please.