The MRCEM Primary examination is the first exam towards fellowship from Royal college of emergency medicine (RCEM – UK). You'll learn about eligibility, exam pattern, what to read, number of attempts allowed, how to prepare, how to apply etc. information about MRCEM Primary exam.
Table of Contents
Read about the full FRCEM Journey
Eligibility
Hold a medical qualification approved by the General Medical Council (GMC) for the purposes of registration.
Candidates registered with the Irish Medical Council (IMC) or an international medical council are required to upload a copy of their current medical registration document at the time of application.
Number of attempts
Candidates are permitted a maximum of six attempts. Previous attempts at the FRCEM Primary taken after August 2016 will be counted. In exceptional circumstances candidates may apply for approval for an additional attempts (approval at the discretion of the Dean, whose decision is final).
In case the college changes the exam pattern or decides to void previous PASS status, you'll be given 24 months of validity for current 'pass' status.
Exam pattern
The MRCEM Primary examination will consist of a 3 hour, multiple choice question (MCQ) paper of 180, single best answer questions (SBAQ).
Marks per subject
Anatomy – 60
Upper limb
Lower limb
Thorax
Abdomen
Head and Neck
CNS + Cranial Nerve Lesions
Pathology 9
Inflammatory responses
Immune responses
Infection
Wound healing
Haematology
Physiology 60
Basic celluar
Respiratory
Cardiovascular
Gastrointestinal
Renal physiology
Endocrine
Evidence Based
Medicine 10
Statistics
Study methodology
Principles of critical appraisal
Pharmacology 24
Gastrointestinal
Cardiovascular
Respiratory
CNS
Infections
Endocrine
Fluids / electrolytes
Muscoskeletal
Immunology /vaccines
Anaesthesia
Microbiology 17
Principles of microbiology
Pathogen groups
Pass mark and Results
The standard set using the Angoff Method (What is angoff method? It uses a group of experts to judge how difficult each question is in an exam to determine the cut-off score). Some questions may be deleted later on. The results will be published on a pre-advised day by 17:00 (GMT), approximately five weeks later.
The passing score doesn't change based on students performance. So sharing your knowledge with your friends will not make it tough for you. Discuss important topics and clear together. And if you need assistance, check our online classes scheduled 2-3 months before every exam. If you miss them, we might have a last minute crash course too. Check our homepage.
Results will be available on the candidates Dashboard on RCEM website.
Previous pass mark.
The official reports will publish the details of pass mark and other overall statistics. Here is the pass mark (cut off ) for MRCEM Primary in last sittings.
97.5 Dec 2016 (No Qs removed. Anat 60, Physio 60, Pharma 27, Micro 18, Path 9, EBM 6)
97 in Jun 2017 (No Qs removed. Anat 60, Physio 60, Pharma 27, Micro 18, Path 9, EBM 6)
97 in Dec 2017 (16 Qs removed. Anat 54, Physio 53, Pharma 25, Micro 17, Path 9, EBM 6)
93 in Jun 2018 (14 Qs removed. Anat 60, Physio 54, Pharma 24, Micro 15, Path 8, EBM 5)
93.65 in Dec 2018 (15 Qs removed, Anat 56, Physio 54, Pharma 26, Micro 16, Path 8, EBM 5)
98.4 in Jun 2019
97 in Dec 2019
100 and 98 in Aug 2020 (Exam was on 2 days)
100 in Dec 2020
103 in Jul 2021
104 in Dec 2021
110 in Jun 2022
108 in Nov 2022
2023 2024 MRCEM Primary exam schedule
| Examination | Exam Dates | Centres | Application Dates | Results Date |
| --- | --- | --- | --- | --- |
| MRCEM Primary | 22 Nov 2023  | Pearson VUE | 31 Jul – 14 Aug 2023 | TBC |
| MRCEM Primary | 21 <ay 2024 | Pearson VUE | 21 Feb – 28 Feb 2024 | TBC |
| MRCEM Primary | 29 Oct 2024 | Pearson VUE | 24 Jul – 31 Jul 2023  | TBC |
Updated 2nd Oct 2023 – Please check official RCEM page for accurate info. If it says Pearson Vue, it'll be conducted in UK and internationally.
Exam fee
As on 2nd Oct 2023, the RCEM page lists the MRCEM Primary fee as – £330
Ready to apply?
Read How to apply for MRCEM primary exam
Revision workshops
If you need some help revise the topics faster, please check our home page for any upcoming online revisions. Check reviews on Facebook page.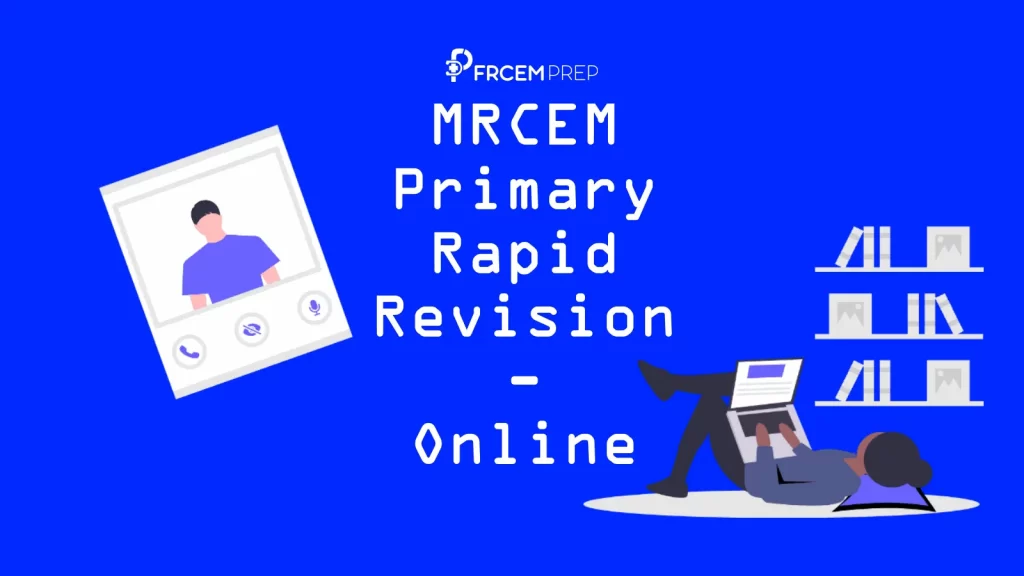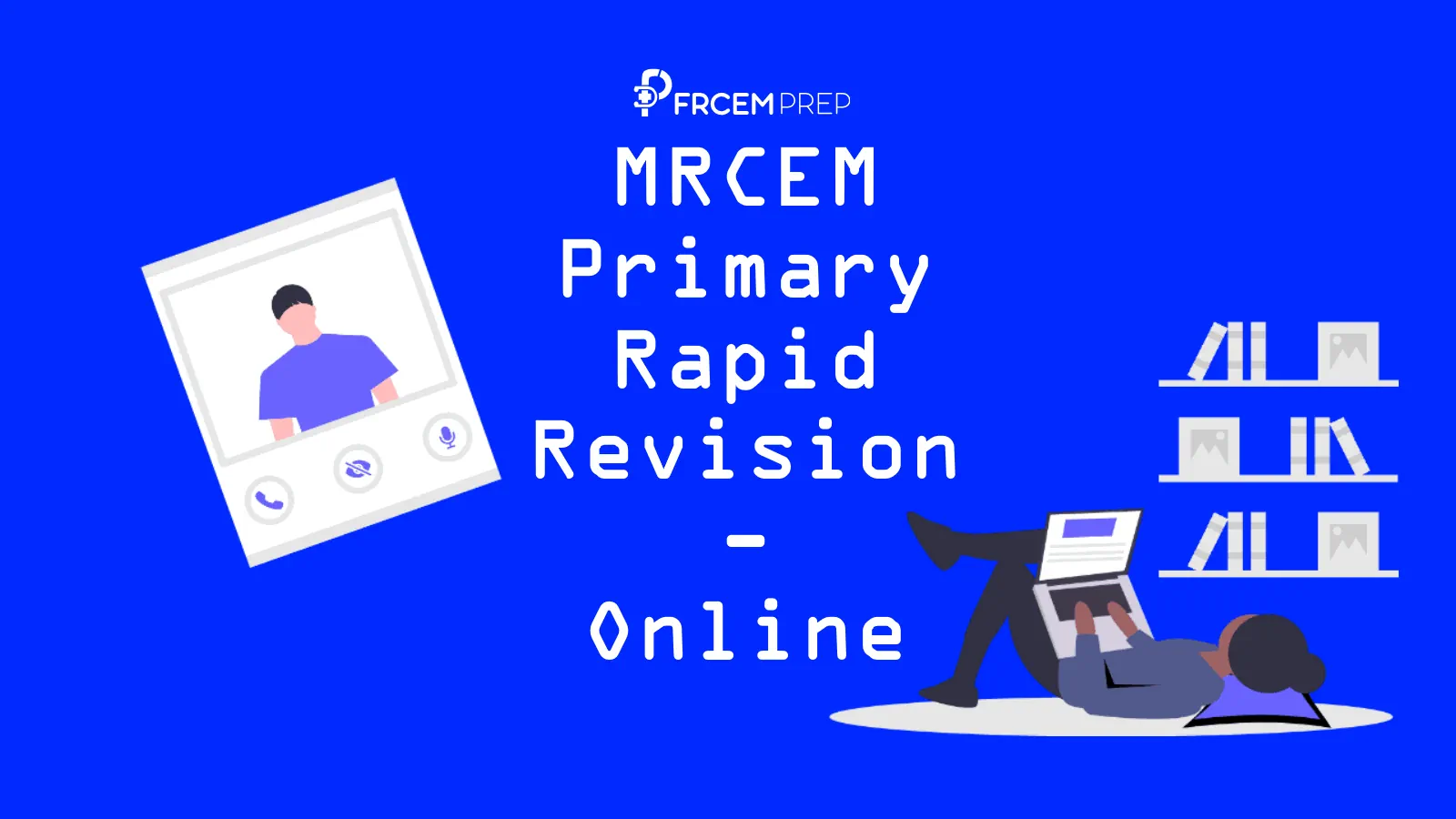 Spotted a mistake in this article? Or Have a suggestion? Let us know please.