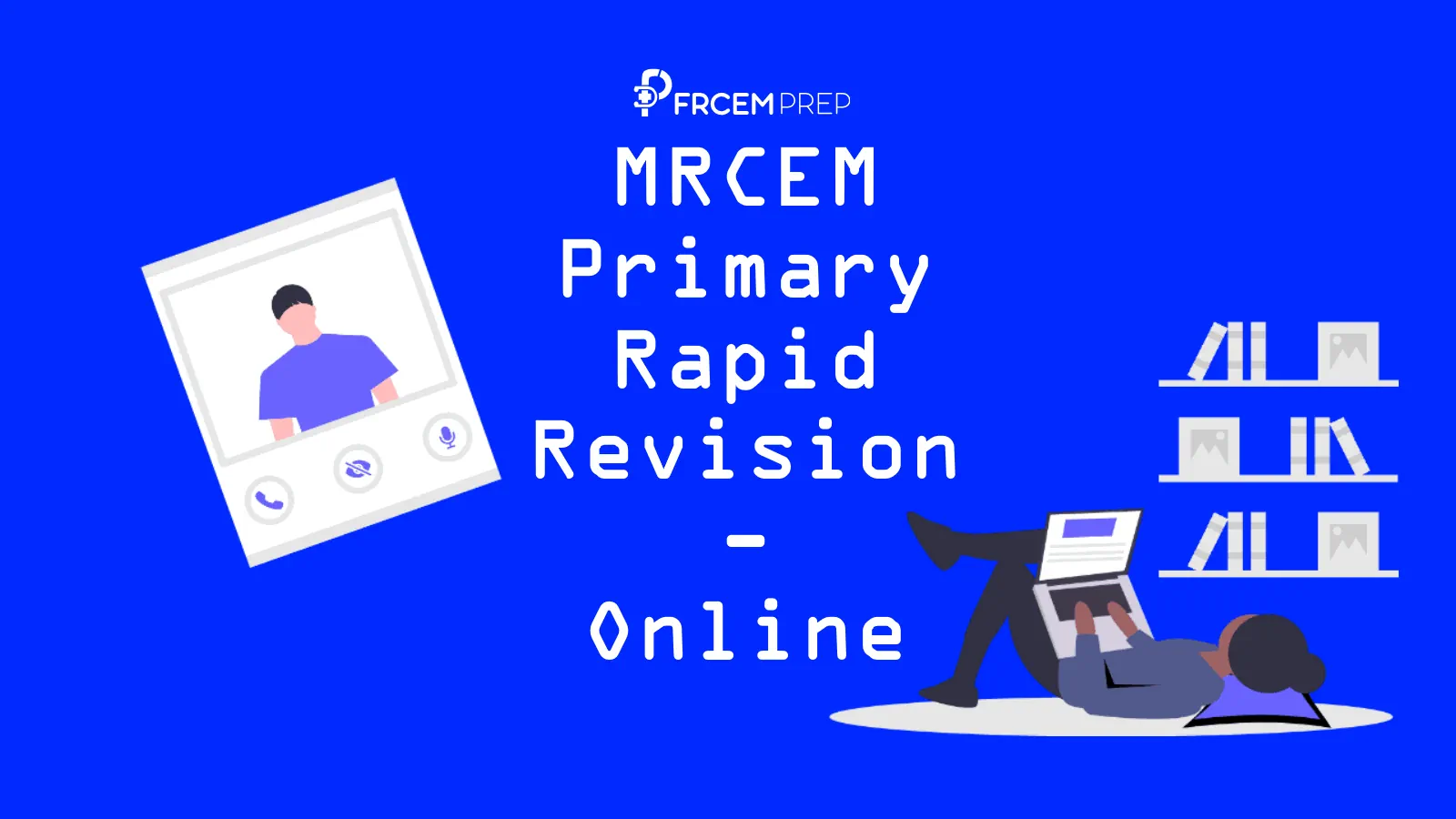 Start your MRCEM / FRCEM journey with our MRCEM Primary SBA revision classes online. The exam tests your skills in basic sciences. Most of the candidates find it hard to revise in a short time. Give us a chance to help you taste success in your attempt in MRCEM Primary SAB exam.
Final revision for Nov 2022 exam.
Nov 19-22.
Click the button below to book.
MRCEM Classes timings
18:00 in India
United Kingdom – 13:30
Sudan – 14:30
Saudi Arabia – 15:30
United Arab Emirates / Oman – 16:30
Pakistan – 17:30
Bangladesh – 18:30
Singapore / Malaysia – 20:30
Table of Contents
What's included?
Those booking now will be enrolled for the last 4 classes that discuss high yield stuff.
We will go through the curriculum as outlined by the RCEM. We will cover major topics that get tested repeatedly.
Each week, we'll discuss the topics as scheduled below to help you understand well. Doing online Question banks alone without understanding is not the ideal way. The curriculum RCEM developed is very thoughtful. Trust us when we say "The knowledge you gain with this preparation is going to help you a lot in the long run in your career".
This course is not just about the online classes. Our Telegram group will be kept very active till the exam. Everyday, questions will be discussed by the group members which will help a lot in clearing the exam (Especially as we approach the exam).

Even if you don't want to post content, just go through the content posted in the group.
Don't just think about clearing the exam going through recalls and question banks. RCEM knows that people have access to old questions pool and tricks the questions well in the next exams. Only when your concepts are right, you will be able to answer with confidence.
The pass mark will be based on the mark decided by the examiners based on how difficult each question is and it will not be based on individual student performance. So join the course along with friends and it will give you extra motivation if you have a committed study partner. Discussions help you remember longer.
Anatomy, Physiology and Pharmacology cover 60+60+24=144 marks and pass mark is around 100. Check previous cut offs. We cover these topics extensively and rest of the subjects under high yield topic discussion to help you score as much as possible.
Schedule
Check with the date you are joining
Final batch for FAQs Nov 19-22 – For Nov 2022 exam
Topic
1st batch
2nd batch
Anatomy
(Limbs)
03 Sep
22 Oct
Physio
(Cell + CVS)
10 Sep
29 Oct
Anatomy
(Abdomen)
17 Sep
05 Nov
Physiology
(Gastro+Respi)
24 Sep
12 Nov
Anatomy
(CNS)
01 Oct
01 Oct
Physiology
(Renal+Endo)
08 Oct
08 Oct
Anatomy
(HeadNeckThorax)
15 Oct
15 Oct
Pharmacology
22 Oct
22 Oct
FAQs 1
19 Nov
19 Nov
FAQs 2
20 Nov
20 Nov
FAQs 3
21 Nov
21 Nov
FAQs 4
22 Nov
22 Nov
MRCEM Primary SBA workshop schedule
Faculty and Fee
The course will be taught by MRCEM qualified faculty with a lot of experience in teaching MRCEM residents, especially the basic sciences.
The fee details will be seen once you click book now. Our pricing is well within an average resident's pay grade in mind. We understand your budget constraints. It'll be affordable. But lowest price will be offered to those who book early and those who book together with a group of friends.
Mode of delivery
We will be choosing Google meet to conduct classes.
Recording and sharing of classes is prohibited. Tracking a digital activity is very simple and you could face criminal charges if you record and share a video to others. GMC will take criminal charges strictly and if found guilty, you can forget GMC (UK) registration and your dreams of working in the UK permanently. Let's avoid the hassle please. People keep sharing online Question banks in WhatsApp and Telegram groups. Please avoid sharing copy righted content.
Reviews
If you want to know the feedback from our previous batches, please check our Facebook page reviews section. All the candidates who attended our classes recommend us. Some of them did not even subscribe to question banks. Just make sure you don't miss our classes upon enrolling.